This content has been archived. It may no longer be relevant
I made 47 hats in 2015!
Now that I look at all of these, I'm pretty sure at least 15 of them are from patterns. So I'm going to call the "knit 15 hats from patterns" goal a success and the 52 hats an almost, but not quite.
As for Stationary Sheeping… again, not quite. But, I did knit and crochet quite a bit, and I kept track of everything.
Yards in 2/9/15 – 12/31/15: **25500**
Yards out 2/9/15 – 12/31/15: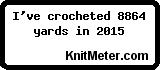 So, with the 2015 goals settled, my 2016 goals are
– Try again for 52 hats. This will include this baker's dozen of Woolly Wormhead patterns.
– Use my library. Only buy patterns if I'm going to start them immediately. Only buy books if there is a pattern I will start immediately.
– Make 16 items to donate.
– Stationary Sheep; get at least as much yarn out as I take in.
– Learn this "Invisible Stranding" technique.
– Make a good project bag with a zipper.
– Try Madelinetosh, Malabrigo, and Noro.
– Design a hat pattern.
– Finish or frog all my WIPs, and keep the number lower.
– Start going to the library again.
– Make a sweater for myself.
– Review some stuff.
So, thems the goals! Happy New Year everybody!