This content has been archived. It may no longer be relevant
Is it bad that I considered buying this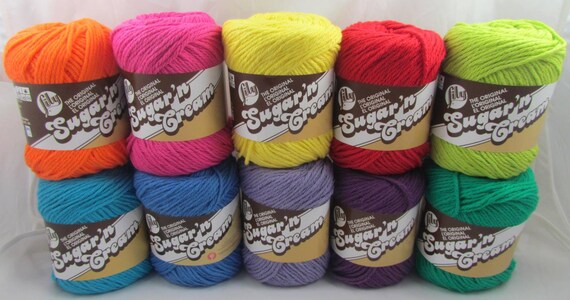 But then thought, "Nah, it'll be cheaper if I take some coupons to Joann and buy those colors…" so I looked at the avalibility at my local Joann, thought about going and buying ALL of those colors, then thought… "Nah, I should use up the cotton I have first…" then looked through my yarn stash to discover I actually already own several of those colors?
That's not a sign of a stash problem, is it? Isn't it just a sign that I really like those colors? 😛
To be fair, some of them were from before I actually started keeping track of my stash on Ravelry. In fact, the Hot Pink and Hot Blue were the remains of the first yarn I ever purchased.
And since I had so much cotton and acrylic by the time I started keeping track, I just never kept track of those. (Though I'm thinking this is a sign I really need to start.)
Now that I think about it, I'm pretty sure the first amigurumi I ever sold, my first Etsy sale, was made from that blue. And the pink was used for one of the first amigurumi I ever attempted to make. So this yarn is the scraps of many firsts.
I just used the last of it to make a very long dishcloth. Because of its length, it will probably be a dishtowel instead.
So now I can go buy some more Hot Pink and Hot Blue – as well as the other hot colors I don't have – without feeling bad.
I totally don't have a problem. I can stop any time I want.